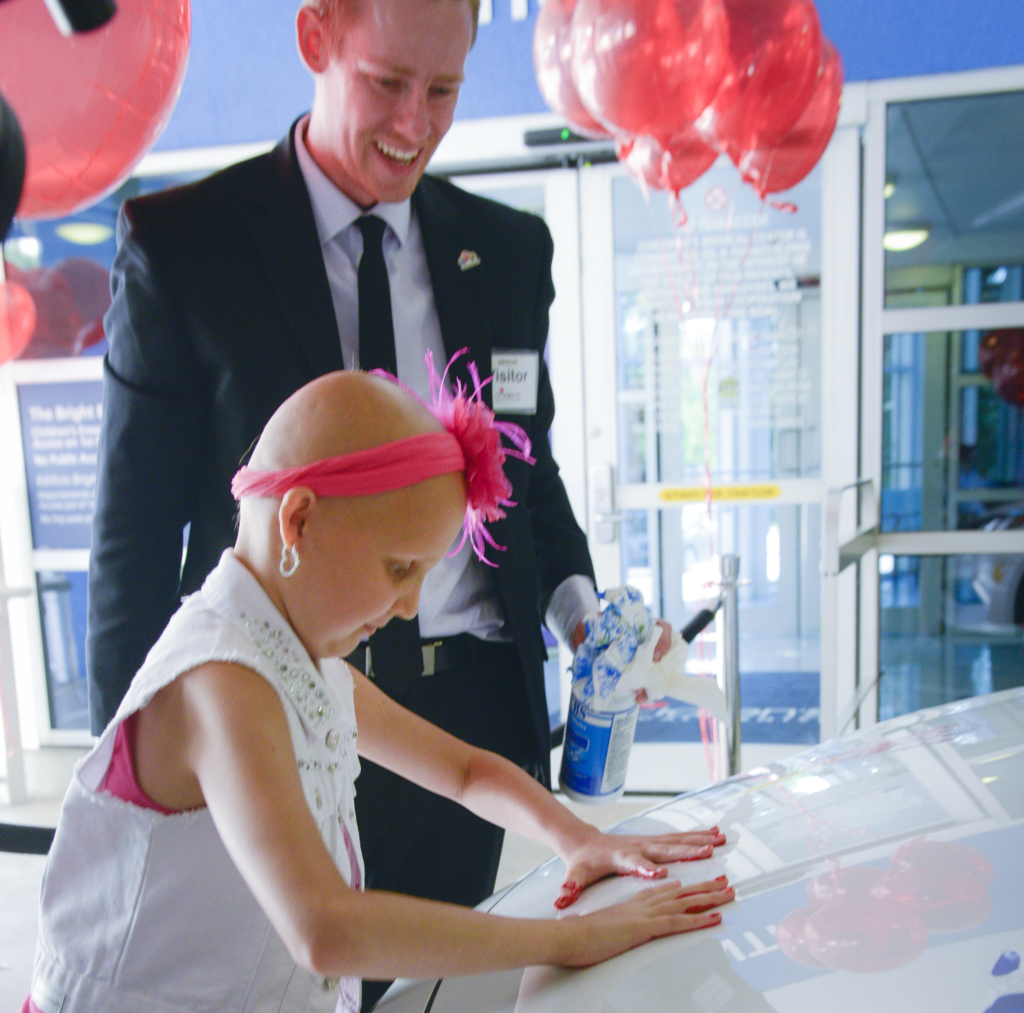 On September 8, Children's Medical Center Foundation received a Hyundai Hope On Wheels grant of $250,000, and Children's very own Dr. Ted Laetsch, an Assistant Professor of Pediatrics at UT Southwestern Medical Center, was named a Hyundai Scholar.
Pediatric cancer patients previous treated or currently being treated at Children's Pauline Allen Gill Center for Cancer and Blood Disorders participated in a "handprint ceremony."  These wonderful kids decorated a white 2014 Hyundai Sonata and Dr. Laetsch's white lab coat with their colorfully painted hands.  The handprints signified all the helping hands that stepped forward to help save these young people.
The Hyundai Hope On Wheels grant money will be used to invest in revolutionary technology called magnetic resonance high-intensity focused ultrasound (MR-HIFU) to zero in on chemotherapy on cancerous tumors in children while sparing their normal tissues. The MR-HIFU delivers the chemotherapy to the tumors while the heat dilates blood vessels in the tumors, allowing more medicine to reach the bloodstream. Dr. Laetsch hopes to begin his trial within the year.
Less than 4% of federal research funding for cancer is put toward pediatric cancer. In 1998, Hope On Wheels embarked on the journey to help fill that void. This year alone, Hyundai Hope on Wheels donated a little over $9 million toward the cause and Children's Medical Center Foundation is one of 36 recipients in the U.S. to receive the grant. But, of course, there is much more to be done, and many additional generous donors like Hyundai are needed.
All of us at Children's Medical Center thank Hyundai Hope On Wheels for this grant. In our 101st year of making life better for children, we are proud to say that Hyundai has been on this adventure with us since 2011. Together we are one step closer in the fight against pediatric cancer.