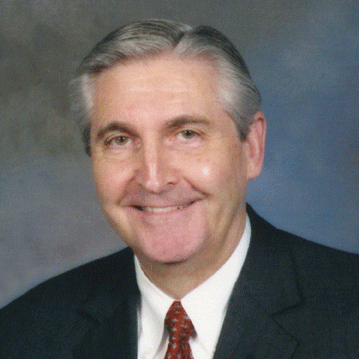 DALLAS — May 27, 2008 — Kern Wildenthal Named to Texas Business Hall of Fame
Dr. Kern Wildenthal, president of UT Southwestern Medical Center, is one of four prominent Texans who will be inducted into the prestigious Texas Business Hall of Fame in November.
The Texas Business Hall of Fame recognizes the accomplishments and contributions of outstanding state leaders and endeavors to perpetuate and inspire the values of entrepreneurial spirit, personal integrity, and community leadership in all generations of Texans.

Other 2008 inductees are Dick Evans of San Antonio, chairman and chief executive officer of Cullen/Frost Bankers; Mike A. Myers of Dallas, chairman and president of Myers Financial Corp.; and Glen E. Roney of McAllen, founder, chairman and CEO of Texas Regional Bancshares and Texas State Bank.
Kern Wildenthal is one of only a handful of nonprofit leaders elected to the Hall of Fame, which began in 1983. The hall has inducted 141 honorees in all, and Dr. Wildenthal is the only individual from a nonprofit organization to be recognized among the 28 inductees selected in the past six years.
This year's honorees will be recognized at the Texas Business Hall of Fame Foundation's 26th annual induction dinner on Nov. 6 in Dallas. The foundation also will award scholarships to Texas MBA students.
Dr. Kern Wildenthal is retiring in September after 22 years as president of UT Southwestern. He graduated from
UT Southwestern Medical School in 1964, completed training in cardiology, and earned a Ph.D. in cell physiology from the University of Cambridge in London in 1970. He returned to
UT Southwestern, where he served as dean of both the graduate school and medical school before becoming president in 1986.
During his tenure as president, the medical center's annual operating budget grew from $184 million to more than $1.4 billion. At the same time, the physical size of the medical center — which comprises UT Southwestern Medical School, UT Southwestern Graduate School of Biomedical Sciences, UT Southwestern Allied Health Sciences School and UT Southwestern University Hospitals & Clinics – has more than tripled from 2.5 million square feet to almost 9 million square feet of space on land that has increased from 65 acres to more than 300 acres.
UT Southwestern's research enterprise — one of the nation's most prestigious, with more Nobel Prize winners than any other medical school in the world — grew from $56 million in 1986 to $363 million last year under Dr. Wildenthal's leadership.
Dr. Kern Wildenthal has been especially effective in increasing the philanthropic support of UT Southwestern from Dallas and the North Texas area, overseeing the growth of the institution's endowment from $40 million in 1986 to $1.4 billion in 2008. At the same time, UT Southwestern consistently falls in the very bottom rank of all major universities and medical centers in terms of fundraising expenses as a percentage of gifts received: Costs associated with raising funds and acknowledging gifts are less than 3 cents for every dollar raised.
Dr. Kern Wildenthal has served on the boards of the Greater Dallas Chamber of Commerce, Dallas Citizens Council, Dallas Assembly, Museum of Nature & Science, Dallas Opera, Dallas Symphony, Dallas Museum of Art, Dallas Business Committee for the Arts and Dallas Center for the Performing Arts.
In being elected to the Texas Business Hall of Fame in 2008, Dr. Wildenthal and Mr. Myers join more than 40 other outstanding civic leaders who previously were elected from Dallas, including Ebby Halliday Acers; Mary Kay Ash; Henry C. Beck; Louis A. Beecherl Jr.; Norman Brinker; Al Casey; Gov. William P. Clements Jr.; Comer J. Cottrell; Edwin L. Cox; Trammell Crow; Mary Crowley; Charles G. Cullum; Robert B. Cullum; Joe M. Dealey; Robert W. Decherd; Robert H. Dedman Sr.; Cecil H. Green; J.M. Haggar Sr.; John P. Harbin; Roger Horchow; the Caroline Rose Hunt family; H.L. Hunt; Lamar Hunt; Ray L. Hunt; Jerry Jones; J. Erik Jonsson; Herbert D. Kelleher; Stanley Marcus; Henry S. Miller Jr.; James M. Moroney Jr.; Clint W. Murchison Jr.; Ross Perot; T. Boone Pickens; Vin Prothro; Lee R. Raymond; Robert D. Rogers; Robert "Bob" Rowling; William T. Solomon; Roger Staubach; Amb. Robert S. Strauss; Joe C. Thompson and W. Ray Wallace.
View the original article here
—–