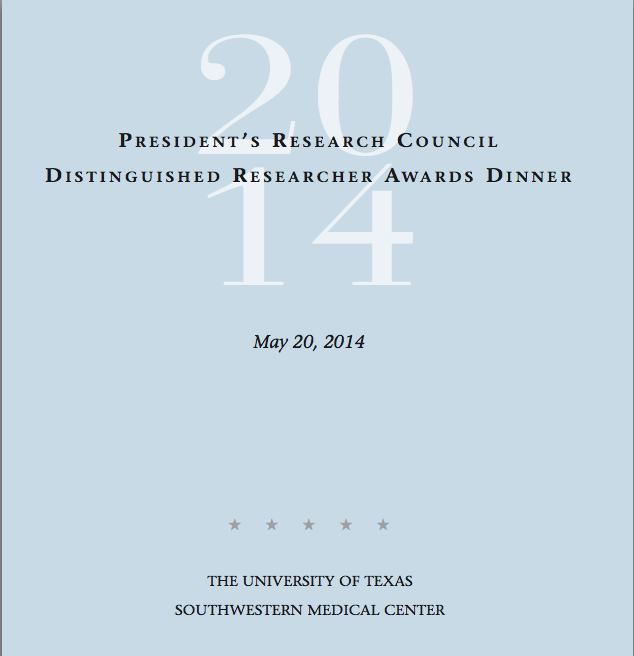 On May 20, the President's Research Council (PRC) of UT Southwestern Medical Center held its annual dinner to present "Distinguished Researcher Awards" to recently appointed faculty members who were judged to have exceptional promise in research.  This year's awardees were Luke Engelking, M.D., Ph.D., assistant professor of internal medicine and molecular genetics, and Said Kourrich, Ph.D., assistant professor of psychiatry.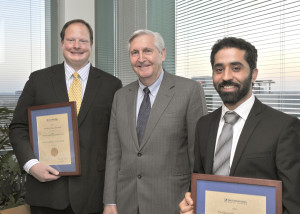 The PRC comprises several hundred community leaders who support the advancement of medical research at UT Southwestern through their financial contributions and their attendance at quarterly meetings to hear lay-language presentations of some of the most exciting research being conducted at the medical center.  The organization was founded in 1985 by Cece Smith and Ford Lacy, who wished to provide ongoing opportunities for community friends to learn about the university's cutting-edge science.
Annual contributions from the PRC membership have provided more than $2 million to fund start-up grants for outstanding new faculty.  The members also donated special funds in 2008 to endow the "Kern and Marnie Wildenthal President's Research Council Professorship in Medical Science."  The Professorship is currently held by Christine K. Garcia, M.D., Ph.D, associate professor in the Eugene McDermott Center for Human Growth and Development and in the Department of Internal Medicine. She was a 2006 recipient of the Distinguished Researcher Award, and has already become a recognized international star in research on inherited lung disease.
It has been highly gratifying to watch the careers of the 45 individuals who have received Young Investigator Awards over the past 29 years, many of whom have emerged as leaders in their fields.  All the awardees deserve accolades, and special congratulations are due this year to Dr. Engelking, Dr. Kourrich, and Dr. Garcia.