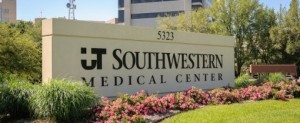 On March 20, UT Southwestern Medical Center held a ceremony to name its newest biomedical research building in my honor (https://give.childrens.com/latest-news/latest-news-entry/biomedical-research-building-named-in-honor-of-utsw-president-emeritus). For this facility to bear my name is particularly gratifying because it was the last major building designed and constructed during my tenure as president of UT Southwestern, and also because it is part of the 90-acre North Campus that was acquired and developed while I was president. I feel deeply grateful for this special recognition and appreciative of the leaders from the medical center, community, UT System, and Board of Regents, who were responsible for this distinction being conferred.
It is especially meaningful to me that the Wildenthal Building will now be included among UT Southwestern's roster of facilities and programs that have been named for some of our community's most respected citizens—individuals and families who have been remarkable leaders and supporters of UT Southwestern for decades, the great majority of whom have been close personal friends, and all of whom I greatly admire. These include names such as McDermott, Green, and Jonsson; Zale, Lipshy, Bright, and Clements; Hamon, Moncrief, Perot, Pickens, and Seay; Beecherl, Bell, Chilton, Crow, Dedman, Gill, Harris, Hart, Pogue, Prothro, Rees-Jones, Rogers, Rose, and Walter; Haberecht and Horchow (for whom there are named spaces within the Wildenthal Building); Cary, Hoblitzelle, Aston, Bass, Solomon, and Rowling (chairs of Southwestern Medical Foundation over a 75-year span); Sprague (my distinguished predecessor as medical center president), Seldin (my departmental chair and the institution's inspiration for half a century), Williams (the students' champion for decades), and Montgomery (an outstanding faculty leader and trusted personal mentor); and O'Donnell and Simmons (whose vision and contributions permeate the entire institution). These individuals and families, along with many others too numerous to list, have provided far-sighted leadership and have donated more than $2 billion to enable UT Southwestern and its affiliated hospitals, Children's Medical Center and Parkland Memorial Hospital, to achieve true preeminence. (From time to time, I hope to write in this blog about how these and other leaders have helped transform our institutions, our community, and the world.)
It seems particularly appropriate that the new state-of-the-art Wildenthal Building houses the new Children's Medical Center Research Institute at UT Southwestern (CRI). As president now of Children's Medical Center Foundation after retiring and being named president emeritus at UT Southwestern, I am focused on a $300 million fundraising campaign that includes major endowment, equipment, and facility support for the CRI, a joint venture between the two organizations, enabling us to recruit the best scientists in the world to Dallas to find groundbreaking treatments and cures for pediatric illnesses.
Concentrating on attracting and retaining the best people, through providing essential funding and facilities while building on a strong culture of excellence, is the approach my colleagues and I followed during my 10 years as a dean and 22 years as president at UT Southwestern, and it is the approach that continues to guide our medical center and its hospital partners. Together, we've been able to develop a faculty comprising some of the most talented physicians and scientists in the world, including six individuals who ultimately won Nobel Prizes. Our investments will continue to pay off in years to come, as breakthroughs in medicine continue to be made here in Dallas.
It is, after all, the quality of the people who make up the fabric of great institutions—both those who work here day in and day out, and those who have the foresight and generosity to serve as volunteer civic leaders and to provide vital resources for the future. Throughout my career at UT Southwestern, at Southwestern Medical Foundation, and now at Children's, I have been privileged to be associated with individuals who, together, have created one of the best places in the world to be a researcher, a clinician, a teacher, a future health care professional, or a patient. It is a true honor to be recognized at UT Southwestern and to have my name permanently associated with this great institution.